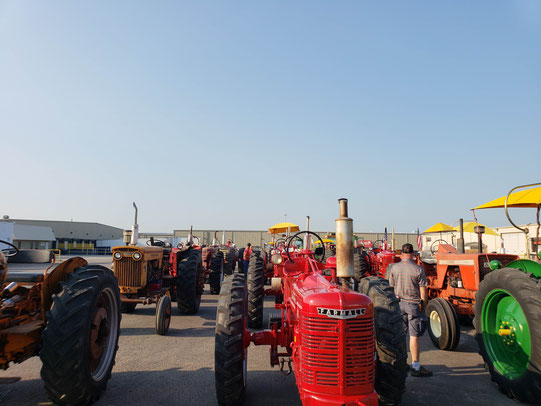 Each year now for 10 years, a subcommittee from the FFA Alumni Association puts together an astounding event.  Starting about day break, if you venture into town at Yoder's Country Kitchen, and if you have ever been to Arthur, you have SURELY eaten at Yoder's, unless you came on Sunday, then you probably just wish you had eaten at Yoder's.  Well the tractors and trucks and rumbling, popping engines start rolling in one by one.  Red, green, orange and gray starts to fill the parking lot.  Some get registered early and enjoy coffee and some biscuits and gravy along with fellowship and coffee shop talk before the drive.  Others roll in as the parade begins.
It is awe inspiring even for non tractor enthusiasts.  The shear sound of the engines and the rolling of the tires makes this event worth seeing.  This taking nothing away from the nostalgia of years gone by.  When our grandfathers and great grandfathers did all of their farming and chores using such tractors.  Seeing the open cabs and wide set back tires paired with the sometimes close set front ends one can't evade thoughts of leather skinned men toiling hours on end in the hot sun, the spitting rain or the bitter cold to get the crops in the ground.  How many acres do you think they could plant in a full day's work back then?  How tired, dirty and worn must grandpa have been after a day such as that.  Contrasting these vintage tractors with what is sitting out in the barn lot mesmerizes ones thoughts back to a simpler time.
A shout out to these forefathers with pride and exclamation is what this cruise represents.  So many have plaques on the sides of the tractors indicating make/model current owner and sometimes the origin or original owner of the tractor.  Tears well as tractors cruise by and stories are told of hunting down a tractor belonging to a great grandfather, lovingly restoring it and proudly entering into such a display of Americana.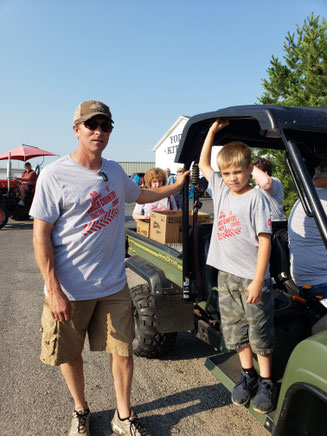 Last year we were able to help with the cruise for the first time, and we are so grateful and humbled by the experience.  Our oldest son was able to drive a tractor, be it not an old one, as we don't have an old tractor!!  The day was squelching hot, the pavement sticky from the sun and the drivers sweating profusely, some under umbrellas and some toughing it in out in the hot June sun!  Jace, our boy was feeling very badly in his air conditioned cab!  He said at one point he cracked the windows open as a gesture of guilt for his temperature controlled ride.  That softy!!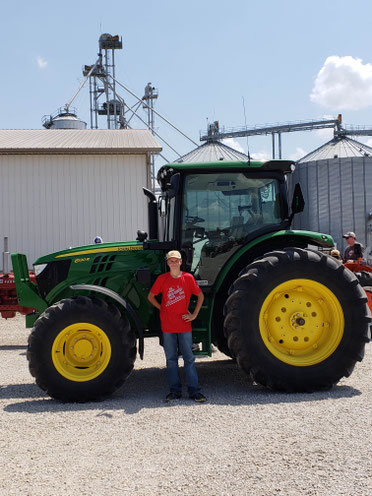 The cruise snakes through the Amish countryside and lands at a farmstead for lunch served up by a local caterer (yum) and hosted by a local farmer.  We are WAY, WAY, WAY excited that we are going to be the lunch stop this coming June!  We cannot wait!  
The Amish Tractor Cruise has a Facebook page for those interested in making an entry or those interested in finding a spot along the route to just enjoy the display.   You can get more information HERE.  A tip back to those that have come before us, keeping their memory alive, the marvel of American agricultural engineering or just the sounds of those amazing engines, there is something for everyone coming to the countryside of Arthur this summer!