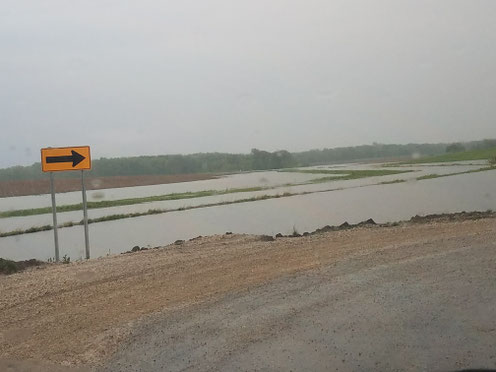 We had more rain over the weekend, but just for a bit. Also had a quick shower midmorning today.  We are hoping the big rains are behind us now though.  This photo is of the drudge ditch to the north of the home farm, but is indicative of the rainfall we received on all of our farms. You can see that the ditch is out of it's banks and flowing fast, so it's doing it's job! This photo was taken Saturday morning and there has been much improvement of the water situation as of today.  
Two separate rain events dumped large volumes of water on our crops over the course of last week, which resulted in seed being underwater in several spots.  Even with good water management and fields prepared to handle water, this volume of water left us in a less than desirable position. 
Mother nature has been somewhat kind to us, however in the fact that the temps have been cooler after the rains.  The seedlings that are emerging can stand their underwater situation longer in the cool temperatures.  We are hoping that replanting and spotting in seed will be kept somewhat minimal compared to what it could have been if the temperatures had sky rocketed after all of the precipitation.  


A few days and some warmer temperatures at this point in the game, will be needed to evaluate the stands of the seedlings and better evaluate the situation going forward. There is always something to be thankful for, even after the flood!